The Philippines has so many beach destinations to choose from and you can easily get overwhelmed when planning for a beach getaway with your family or barkada. Fret not, we've taken the initiative to list down the BEST of the best beach accommodations in the Philippines. Take your pick!
1. The Bellevue Resort Bohol
Image credit: The Bellevue Resort Bohol
Want to enjoy the very best in sand, sun and sea in Bohol? The Bellevue Resort Bohol offers you an exclusive beachfront accommodation with a stunning view of the ocean in Panglao Island. You are sure to enjoy a well-deserved vacation with their white sand beaches, huge swimming pool, cosy and spacious rooms, and warm service. What's even better is that you can experience the entire island like a local and go on a gastronomical and cultural adventure through their Sip, Sun and Stay promo!
2. The District Boracay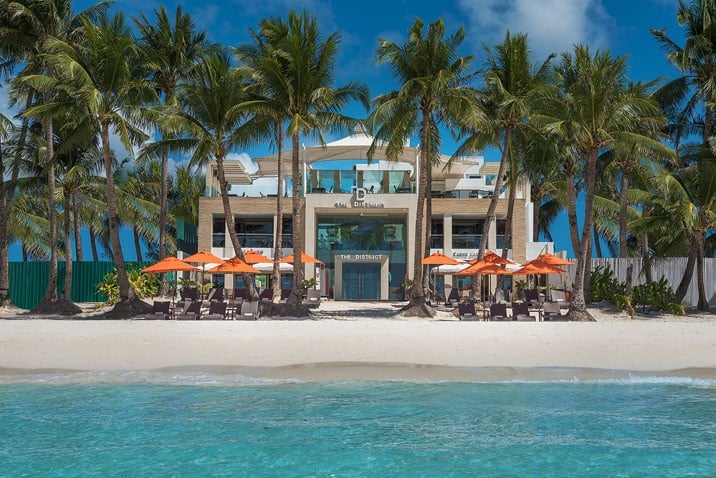 Image credit: The District Boracay
Experience the contemporary beach lifestyle at The District Boracay . The white beach is literally just right outside the doorstep of this boutique resort. It also boasts of its gastronomic delights including the only brunch buffet in the island. It is right in the middle of the Boracay beach stretch which makes it very convenient especially for party goers.
3. Ambassador in Paradise Boracay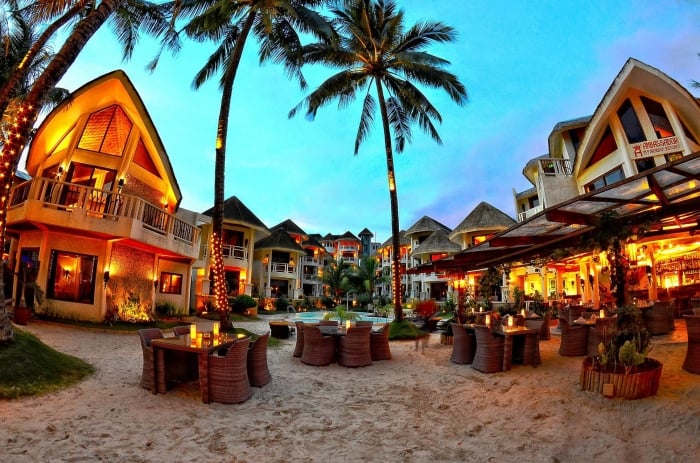 Image credit: Ambassador in Paradise Boracay
Enjoy first-class service in a paradise by the beach. This 5-star, award-winning resort boasts of its eco-friendly and luxurious rooms and facilities. With its impeccable service and a breathtaking view of the ocean,Ambassador in Paradise Boracay makes a great beach getaway. Don't believe me?
4. Agos Boracay Rooms and Beds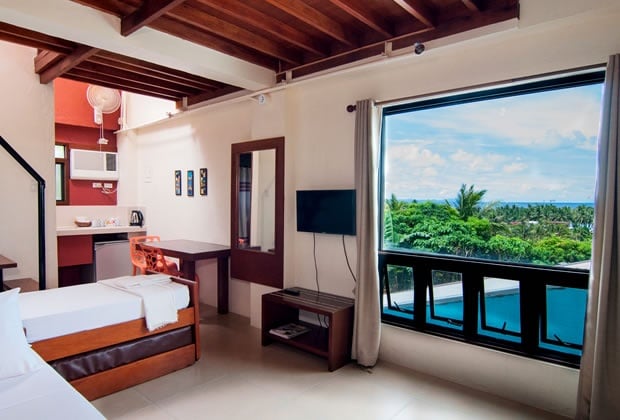 Image credit: Agos Boracay Rooms and Beds
Enjoy a panoramic view of Boracay's pristine white sand and clear turquoise waters at Agos Boracay Rooms and Beds. Hint: Choose a Family Room with a view or laze the day away at the 4th-floor sundeck. While it's not in a beachfront location, it's only two minutes away from the main road and about six minutes away from either Bulabog or White Beach. And, it's located in Station 2, where everything — food, shopping and party — is within walking distance. Psst, their rooms are perfect for longer stays too, should you wish to extend your getaway in Boracay.
5. Amarela Resort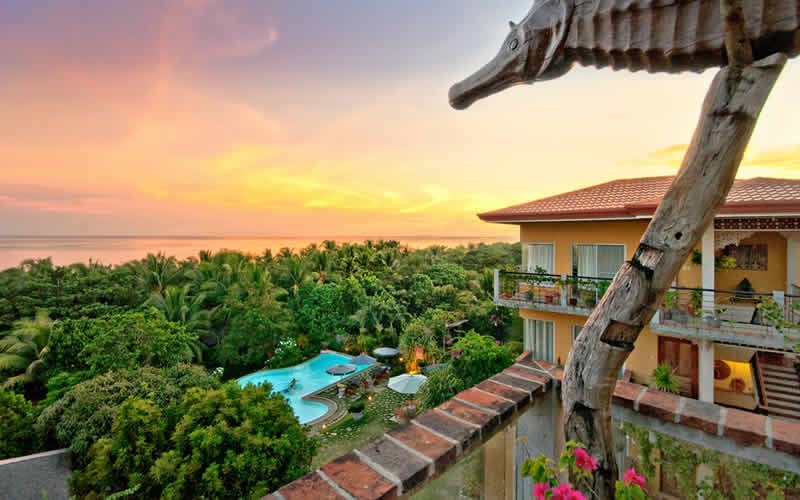 Image credit: Amarela Resort
Just by looking at the photo above, your itch for a getaway will certainly amplify. But more than its picturesque setting, Amarela Resort in Panglao, Bohol guarantees that each guest will get luxurious, royalty treatment without compromising the environment. It's proud of its green hotel practices including solid waste segregation and water recycling through rainwater collection, among others. This is the resort you probably would be so proud to stay at!
6. Shangri-La's Boracay Resort and Spa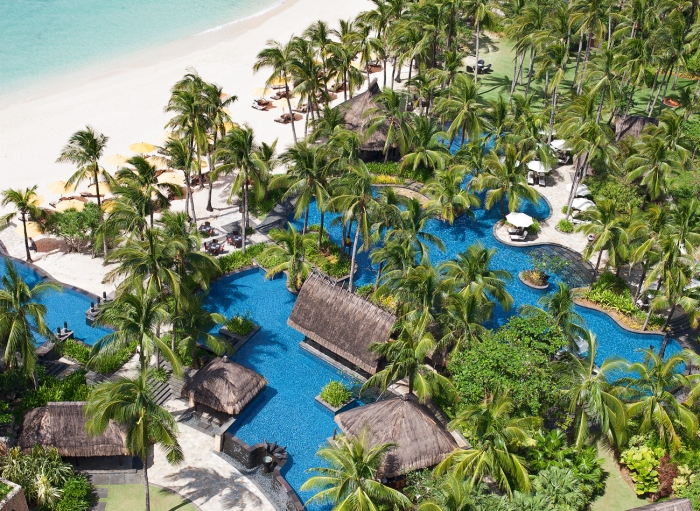 Image credit: Shangri-La's Boracay Resort and Spa
If you are looking for peace and quiet in one of the best beaches in the Philippines, Shangri-La's Boracay Resort and Spa will give you exactly what you need. Located on Puka Shell Beach, this resort is perfect for your summer escapade. Shangri-La's Boracay Resort and Spa takes pride in its 350-metre private beach and over 200 rooms, suites, and villas.
7. Lagen Island El Nido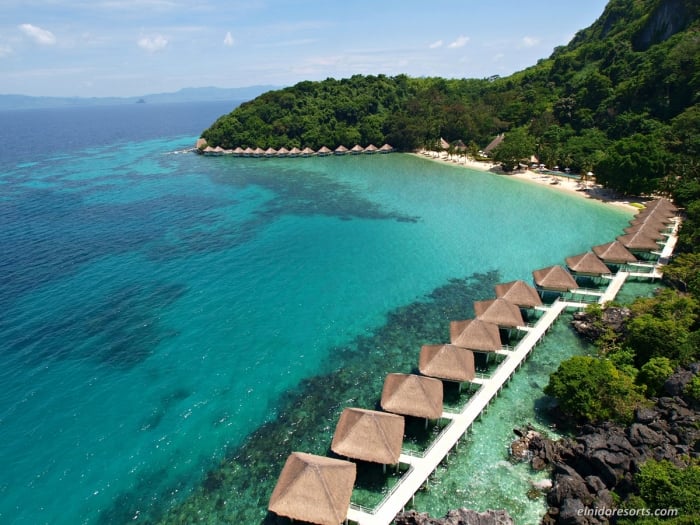 Image credit: Lagen Island 
Tranquillity in a dense forest, lagoon, island resort; this is what you will experience in Lagen Island in El Nido. This property is one of the spectacular islands managed by El Nido Resorts. With over 50 thoughtfully curated rooms, Lagen Island is the place to be if you want a unique beachfront experience.
8. Matinloc Resort El Nido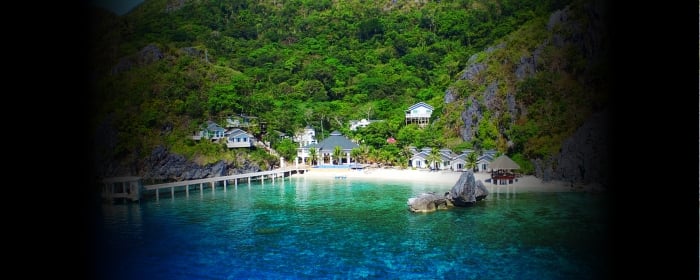 Image credit: Matinloc Resort
Planning a summer trip with the family? The villas and suites in Matinloc Resort are spacious and offer stunning views of the beach, garden, and even the forest. Indulge in a fantastic culinary experience with many dining options, and the best part: the view! On top of all these, you can also enjoy diving, massage, hiking, and even fishing at the resort.
9. Pearl Farm Beach Resort Samal Island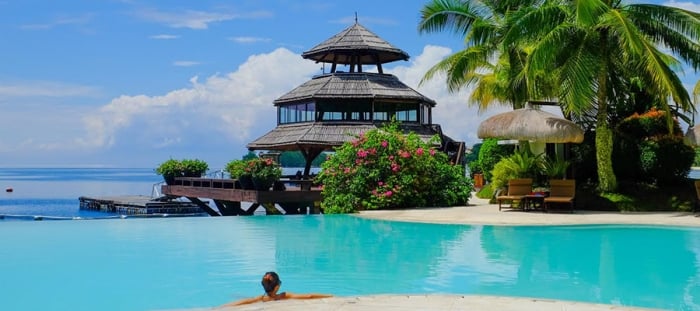 Image credit: Pearl Farm
Pearl Farm in Samal Island claims to be the only 5-star resort in Mindanao, and rightfully so. It is secluded enough to be a hidden getaway destination. You can choose from a variety of guestrooms from ocean view suites to traditional Mandaya villas. And their food! Oh my goodness, their buffets are amazing!
10. Infinity Resort & Spa Puerto Galera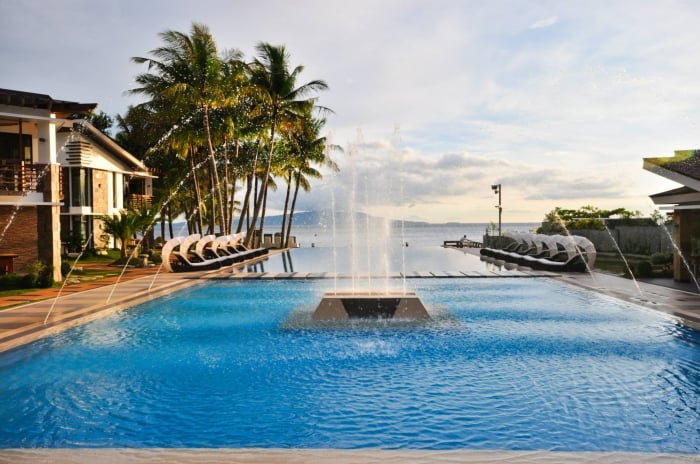 Image credit: Infinity Resort & Spa
There are endless possibilities if you stay at Infinity Resort & Spa in Puerto Galera. From its outdoor Jacuzzi to infinity pool to the spa, your days are surely well-spent. Not only that, you can also catch the beautiful sunrise by the beach.
11. Eskaya Beach Resort & Spa Panglao Island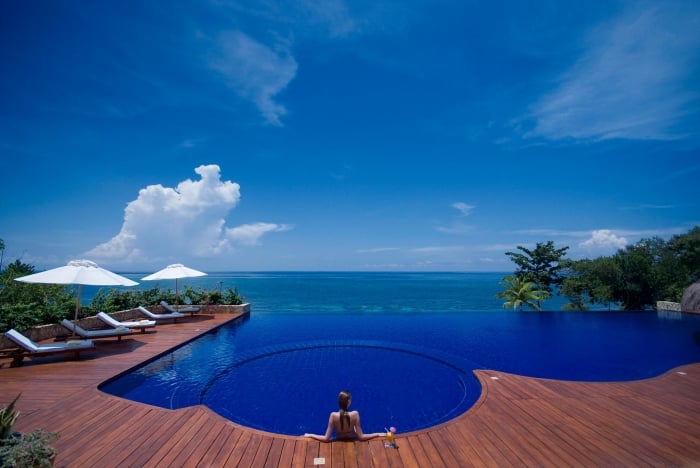 Image credit: Eskaya Beach Resort & Spa
Want your own private pool with a view of the beautiful sea? Yaaaaas! Eskaya Beach Resort & Spa can give you the grandest staycation experience. It also boasts its own hilltop spa overlooking the ocean.
12. Siargao Bleu Resort and Spa
Image credit: Siargao Bleu Resort and Spa
Siargao Bleu Resort and Spa gives you complimentary butler service, kayaking lessons, body massage, FREE shuttle service to any point along General Luna, and a whole lot more! This place is amazing, they even have movie nights! Now, where else can you find this kind of service in Siargao?